Competition history
An international competition with a long heritage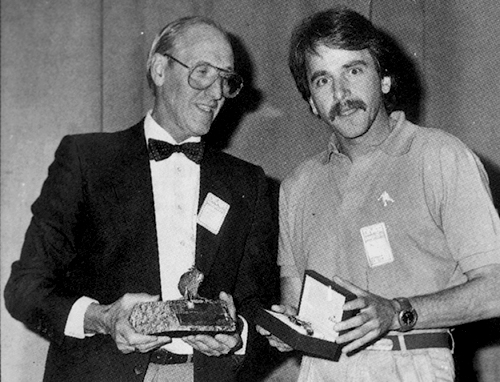 Brighton Festival

- Bernard Eaton presents Kurt Amsler with the title Grand Master of Underwater Photography at the Brighton Festival in 1987.
Why UPY? Historically the UK has been home to some of the world's most prestigious underwater photography competitions. Bernard Eaton kicked it off when he organised the first Brighton Underwater Film Festival in 1965 (and it was a competition that led to the foundation of the British Society of Underwater Photographers in 1967). Furthermore, Britain continues to be the home of world class wildlife photography competitions, like the WPOTY (http://wildlifephotographeroftheyear.com) and BWPA (http://www.bwpawards.org). But since these only cater for underwater images of wildlife, fifty years after the original Brighton Festival we decided to bring a dedicated and international underwater photography contest back to Britain.
And so the Underwater Photographer of the Year Competition was born; Alex Mustard, Dan Bolt and Peter Rowlands reviving a decades old tradition of major international Underwater Competitions run from the UK.
The inaugural competition in 2014/15, judged by Alex Mustard, Peter Rowlands and Martin Edge was a huge success. With over 2500 images entered from over 40 different countries, the judges (over a two day meeting in the heart of England) had to make a selection from a staggering array of high-class underwater images.
The international press picked up on the results; eventually being published to a huge audience around the globe. The winning images were published in over 12 countries in broadsheet, tabloid, hi-end magazine, online, and social platforms. The free eBook of winning images has been downloaded 10,000s of times. After the London International Dive Show the winning images have been on display at the UK's Fox Talbot Museum, National Marine Aquairum, South Africa's Chavonnes Battery museum and the Danish National Aquarium.
Since 2015, UPY has grown and grown. The 2023 edition attracting a record 6000 photographs from 500 underwater photographer from around the world. The winning images are seen by millions of people across the world, through widespread coverage from leading media outlets and celebrated by the underwater photography community as the strongest set of underwater photos in any contest.